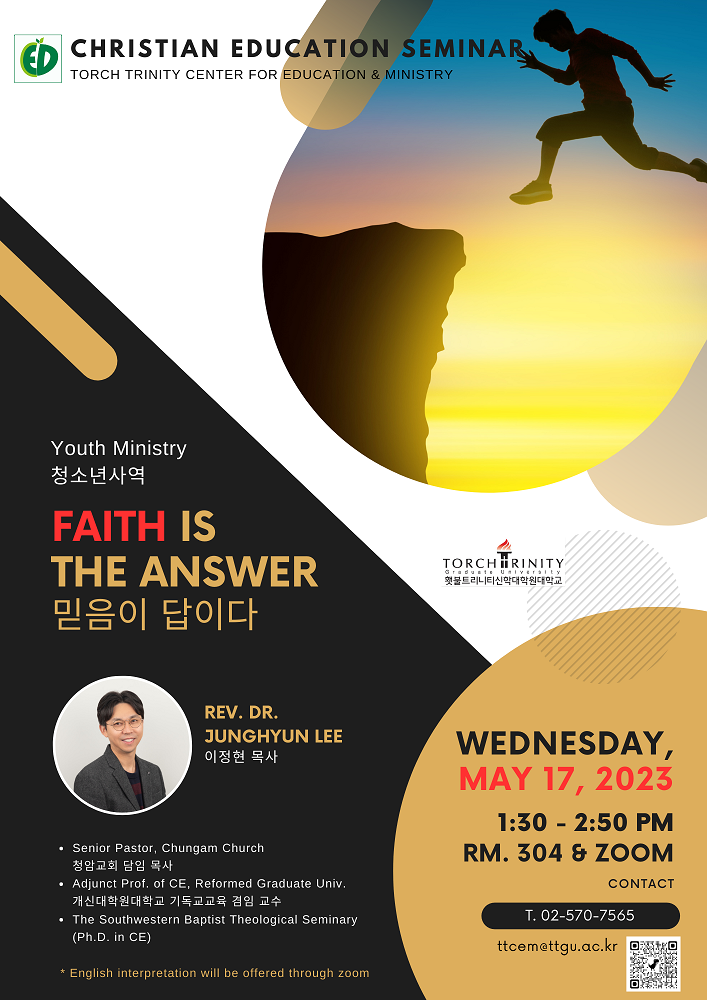 Welcome!
We invite you to the Wednesday Christian Education Seminar. It will be offered both on and offline.
No registration is required. If you want to participate in the seminar online, please refer to the zoom link below or just scan the QR code to get the zoom link.
▶ Notice
1. You can earn 2 extra credit points for on-site participation and 1 extra credit point for online participation.
If you earn 2 extra credit point(s), you can submit them to either one class all together or two different classes separately
upon your choice. Note: Only to education course(s).
2. After the seminar, fill out the seminar attendance form and submit it to TTCEM (ttcem@ttgu.ac.kr) by June 2 (Fri.).
You will get the form on the spot of the seminar.
환영합니다!
여러분들을 기독교교육 수요강좌에 초대합니다.
세미나는 온라인과 오프라인으로 참석 가능하며, 등록은 필요하지 않습니다. 온라인으로 참석하실 분들은 아래 줌 링크를 참고하시거나, QR코드를 스캔하시면 줌 링크와 연결됩니다.
▶ Notice
1. 오프라인 참석자는 가산점 2점, 온라인 참석자는 가산점 1점을 받을 수 있습니다.
가산점 2점을 받은 분들은 하나의 수업에 모두 제출하시거나, 두 개의 수업에 별도로 제출할 수 있습니다.
(참고: 교육학과 수업만 해당)
2. 세미나 참석 리포트 양식은 세미나 당일에 제공되며, 참석자는 내용을 기입하셔서 6/2일 (금)까지
기독교교육센터로 보내주세요 (ttcem@ttgu.ac.kr).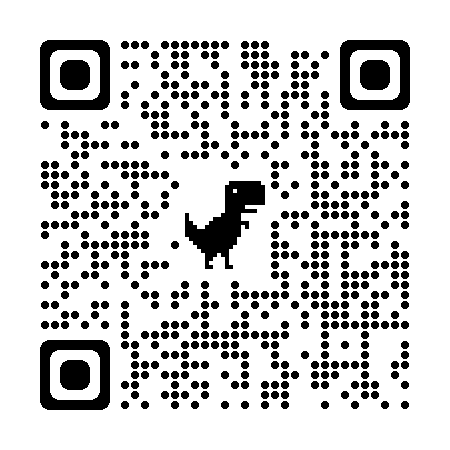 * Contact: TTCEM, TEL. 02-570-7565 or ttcem@ttgu.ac.kr
* English interpretation will be offered through zoom.
▶ Zoom Link
Sinai Chung 이(가) 예약된 Zoom 회의에 귀하를 초대합니다.
주제: Wednesday Christian Education Seminar
시간: 2023년 5월 17일 01:00 오후 서울
Zoom 회의 참가
https://smau-or-kr.zoom.us/j/89850072391?pwd=MWVMQzREbktHRjNiZXkzcEw3NGdsdz09
회의 ID: 898 5007 2391
암호: 931984
한 번의 탭으로 오디오 회의에 참가
+12532158782,,89850072391#,,,,*931984# 미국 (Tacoma)
+13017158592,,89850072391#,,,,*931984# 미국 (Washington DC)
위치에 따라 전화 걸기
+1 253 215 8782 미국(Tacoma)
+1 301 715 8592 미국(Washington DC)
+1 305 224 1968 미국
+1 309 205 3325 미국
+1 312 626 6799 미국(Chicago)
+1 346 248 7799 미국(Houston)
+1 360 209 5623 미국
+1 386 347 5053 미국
+1 507 473 4847 미국
+1 564 217 2000 미국
+1 646 931 3860 미국
+1 669 444 9171 미국
+1 669 900 6833 미국(San Jose)
+1 689 278 1000 미국
+1 719 359 4580 미국
+1 929 205 6099 미국(New York)
+1 253 205 0468 미국
회의 ID: 898 5007 2391
암호: 931984
현지 번호 찾기: https://smau-or-kr.zoom.us/u/kcpLoCTFiE