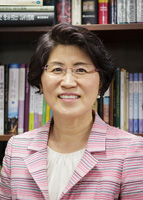 PRESIDENT


Rev. Dr. Jung-Sook Lee
Greetings from the President
Greetings in the name of the Lord!
I am Jung-Sook Lee, the fifth president of Torch Trinity Graduate University. I would like to extend to you a cordial welcome and invite you to explore the university's mission and vision for the twenty-first century.
Founded in 1998, Torch Trinity is a diverse theological institution in which Christians of different backgrounds and cultures come together to be equipped as ministers for the churches of Christ. It is a Christian community where all, whether faculty, staff, or students, serve the Lord in one mind and one heart.
Torch Trinity is particularly keen on world missions and evangelism. Mission, God's mandate for all Christians, is the foundational commitment of our school. In fact, Torch Trinity was established as an outgrowth of the evangelistic fervor that touched many mission-minded Christians during and after the Global Consultation on World Evangelization (GCOWE) which was hosted by Torch Mission Center in 1995. From its inception, Torch Trinity has endeavored to reach out strategically for "unreached people groups" by inviting potential leaders from the Majority World that they may acquire biblically sound education and training in a cultural setting that is more amenable to their ministerial context. It was God's grace that Torch Trinity started as the only English-speaking graduate university in South Korea in the spring of 1998. Since 2005, the university has adopted bilingual teaching in order to serve the leaders of Korean churches more effectively and facilitate strategic cooperation beyond national boundaries for world missions.
Torch Trinity is committed to providing Bible-centered teaching, strives for excellence in academic training, and promotes mission in relevant ways for the transformation of the world. We prepare our students to become ministers and leaders who are well-versed in biblical truth and have Christ-like mind and passion for the world. At Torch Trinity, faculty, staff, students and alumni support one another as members of the Body of Christ that we all may be found as God's faithful coworkers.
Located in the heart of metropolitan Seoul, we are readily accessible to various opportunities for urban mission and church ministries. Moreover, Seoul is increasingly becoming a strategic hub for various ministries and world mission. I encourage you to visit us and join us to become a part of the Torch Trinity family.
May God alone be glorified through everything we do in the name of the Lord!
Profile
Before joining Torch Trinity, Dr. Lee taught at Princeton Theological Seminary, Grace College and Seminary, and New Brunswick Theological Seminary in the US, the Presbyterian Theological Seminary, the Academy of Korean Studies, Ewha Womans University, and Seoul Women's University in Korea. As an ordained minister, she also served in several Korean churches in America. Therefore, when Dr. Lee joined Torch Trinity as the first full-time Church History professor in 2002, she brought her rich experience as a teacher and pastor to the Torch Trinity community. She received her BA in Sociology at Ewha Womans University where she first felt the call to become a missionary. Dr. Lee pursued theological studies at Asia United Theological University (MDiv), then at Drew University and Princeton Theological Seminary in the US. She received her PhD in Church History under Professors Jane D. Douglass and Elsie A. McKee at Princeton Theological Seminary. Although John Calvin's reform in Geneva is her major interest in research and publications, she also writes about the history of Christian art after her postdoctoral program at the Academy of Korean Studies with a research grant from Korea Research Fellowship. Currently Dr. Lee serves as a praesidium member for the International Congress for Calvin Research, a board member for the Asia Theological Association, and treasurer for the Korea Association of Accredited Theological Schools. She is married with two children.