Torch Trinity emphasizes Strategic Mission Education and adaptive education through strategic partnerships with pastors and leaders from mission fields and Korean churches. Furthermore, foreign residents in Korea and foreign nationals of Korean descent may find programs suited to their specific needs as shown below.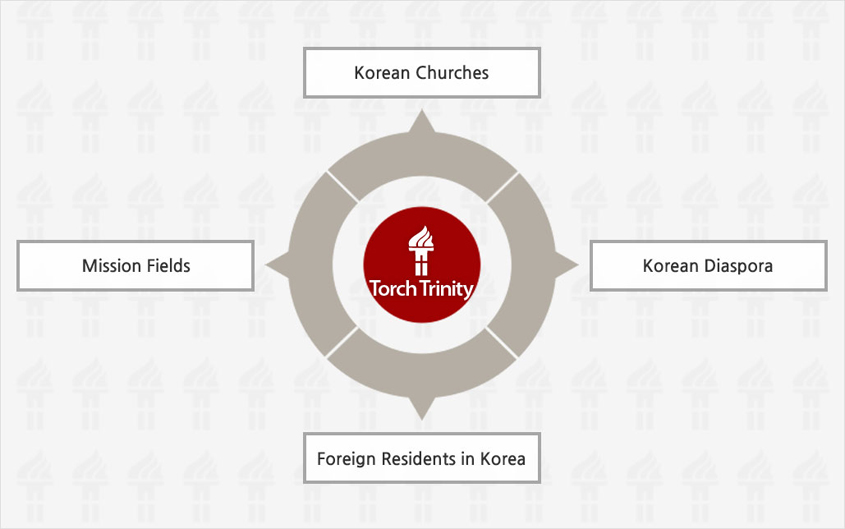 Strategic Mission Education
Torch Trinity selectively admits qualified candidates from mission-field countries for the Torch Strategic Mission Scholarship (TSMS), which includes full tuition, room, and board. TSMS is an integral part of Torch Trinity's mission to train and equip Christian leaders for those regions least penetrated by the gospel.
Torch Trinity trains students to engage in difficulties in the mission-field and ministry settings, equipping them with practical leadership skills and a solid theological foundation. The educational environment of Torch Trinity teaches students to foster personal relationships, crossing cultural and language barriers, in order to communicate the gospel efficiently..
Between semesters, members of faculty take groups of students to visit alumni. We call them Angel Projects. Professors often give seminars on their specialized topics while students are able to learn first-hand how Christians in the Majority World propagate the gospel in a local context. Torch Trinity endeavors to stay connected to its graduates for mutual edification, learning how to meet the needs of Christians abroad.
ㆍTorch Strategic Mission Scholarships
ㆍMajority World Scholarships : China, Islam, North Korean defector, Japan
ㆍThe Korean Diaspora Mission Scholarship(KDMS)
ㆍThe Angel Project
Torch Trinity Number of TSMS Alumni(As of December 31, 2017)
Region
Country
No. of Alumni
1
Asia
Japan
2
2
China
5
3
Nepal
18
4
Taiwan
1
5
Lao
1
6
Russia
3
7
Malaysia
1
8
Mongolia
4
9
Myanmar
19
10
Bangladesh
1
11
Vietnam
6
12
Butan
1
13
Sri Lanka
4
14
Singapore
1
15
India
31
16
Indonesia
8
17
Cambodia
1
18
Thailand
4
19
Pakistan
7
20
Philippines
10
21
Hong Kong
1
22
Uzbekistan
1
23
Kazakhstan
2
24
Eastern Europe
Romania
3
25
Bularia
1
26
Ukraine
2
27
Middle East
Iraq
3
28
Israel
1
29
Egypt
1
30
Africa
Ghana
7
31
Nigeria
1
32
Liberia
1
33
Botswana
1
34
Sudan
1
35
Ethiopia
2
36
Uganda
2
37
Cameroon
1
38
Kenya
7
39
Republic of Congo
1
40
Tanzania
1
41
Oceania
Brazil
1
42
Ecuador
1
43
Fiji Island
1
total
171
Ratio of T.S.M.S. Alumi by Nationality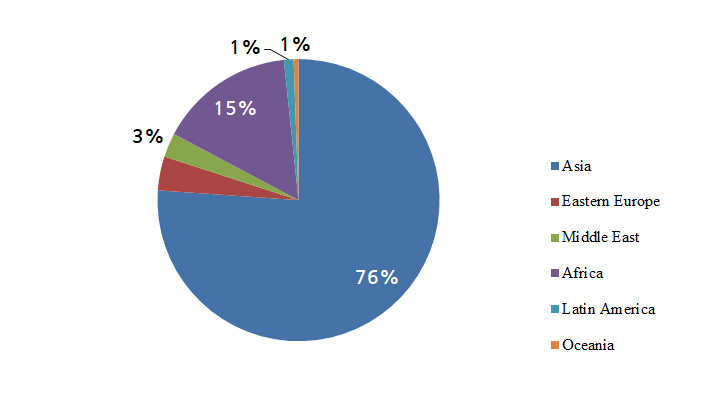 Adaptive Education
Christian CEO Program
Torch Trinity hosts the Christian CEO program for local Christian leaders who are actively participating in the social arena and making an impact for the gospel. Courses are taught by leading speakers and the summer outreach, where participants develop their talents as Christian leaders. The program lasts for 25 weeks.
Expat Program
The Expat program is a part-time program for foreign nationals who are residing in Korea on a non-student visa. Both Korean and English programs are available for this program.