2020 Fall Online OT Seminar
*본 세미나는 영어로 진행됩니다. 한국어 과정/영어 과정 재학생분들 모두 참여하실 수 있습니다.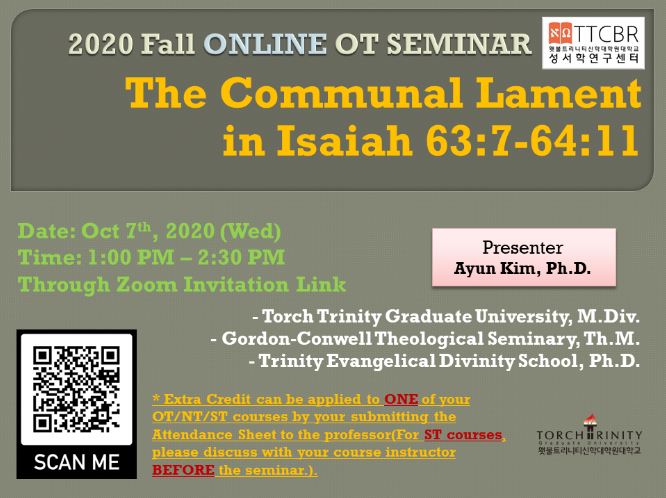 Dear TTGU students,
TTCBR is hosting "2020 Fall Online OT Seminar" in English on Oct 7th, 2020 (Wed) from 1:00 PM – 2:30 PM. Below is the Zoom Meeting link to join the seminar. You can also join the seminar using the QR Code on the poster.
You can submit the Attendance Sheet that you will get at the seminar to ONE of your OT/NT/ST professors to get extra credit for ONE course(*For ST courses, you will have to discuss with your course instructor BEFORE the seminar.).
If you have any questions, please feel free to contact Torch Trinity Center for Biblical Research (TTCBR).
Thank you.
▶Tel. 82-2-570-7383
▶Email: ttcbr@ttgu.ac.kr
<Zoom Meeting Link>
TTCBR is inviting you to a scheduled Zoom meeting.
The Lecture starts at 1:00PM
Topic: TTCBR Special Lecture by Dr. Ayun Kim
Time: Oct 7, 2020 12:30 PM Seoul
Join Zoom Meeting
https://zoom.us/j/95695584429?pwd=OGZzSGF2QmdqLzIyRmR2OUM0S05HZz09
Meeting ID: 956 9558 4429
Passcode: 325264